Are you looking for a unique entertainment idea for your corporate event, school party or wedding reception? Try Quality Entertainment's video dance party! The music video to every song our DJs play is projected onto giant video screens or TVs.
We have party entertainment ideas & packages to suit any party:
* All Night Variety – This is our most popular package as our Video DJ (VJ) plays everything from oldies to the latest music
* Hot New Hits – Your VJ only plays today's hottest new songs. It's perfect for schools and youth parties.
* Retro Party – This package features the greatest videos from yesterday but not today.
* Video Dance Party for Small Rooms – This package is perfect when you have a small room or you want to use LCD screens instead of the big screens. We offer 55" screens on stands or we can tap into the existing video screens at the venue.
Each Video Dance Party Package Includes
* A Video DJ
* Each package includes one giant video screen and projector
* Lots of fantastic videos
* Full sound system
Additional Services
* Add a second screen for better visibility from all angles
* Add special effect lighting to enhance the dance floor and atmosphere
* Glow necklaces and prizes
In addition to the great music and videos we can provide special effect lighting, glow necklaces and a second screens for more viewing. The video dance party is always a great entertainment idea. Contact us today to book for your next party!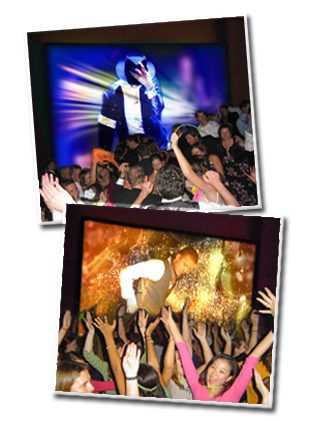 Party Entertainment Ideas
Click on the image to read about the service.