When you choose to include a podium for speeches for events such as weddings, galas and corporate parties, you are giving your speaker a comfort object to help them communicate better while providing your audience with a focal point. Quality Entertainment offers the option of translucent podium rentals, which is an elegant alternative to the standard more cumbersome styles.
The Benefits of Translucence
Stylish and modern in design, translucent podiums add a touch of class and refinement to your event. While providing the function of a stand for notes and a defined spot for your speakers, the translucency allows the podium to seemingly become part of the background once a speech begins. While traditional, opaque podium rentals still have their place, if your event is being held in a modern venue or with contemporary decor; the translucent podium has that little extra pizzazz you need!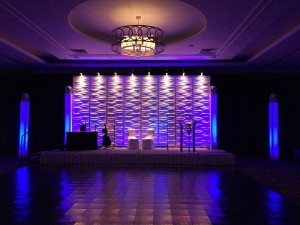 Tips for Using a Podium
Translucent podiums are a great addition to your function but there are a few things to keep in mind to maximize their effect.
Be sure the podium is the right height for your speaker. If there are multiple speakers, have a set of risers nearby that can be quickly moved under the speaker or under the podium to allow for varying heights.
Since the podium is clear, keep the surface uncluttered with only your notes to minimize distraction.
Encourage speakers to step back a bit from the podium so they use their hands naturally in conversation. This will keep their voice genuine and prevent the urge to lean against the podium, which can limit voice projection. Also, remind the speakers not to bang the podium which can be picked up by nearby microphones.
Remind speakers to smile and enjoy their performance. The more fun they seem to be having, the more enjoyable your audience will find the presentations. Remind them as well not to move around too much but rather stay centred behind the podium to make it easier on the audience to stay focused on the subject matter.
Translucent podium rentals are a great option for the speakers who are creating memories at your wedding, or delivering information and making presentations at your gala or corporate function. For more information on renting a translucent podium for your Ottawa Special Event, give us a call or use our online form to request a custom quote.