You have a major event and you need it to run smoothly and successfully. Rely on the professional major event production team from Quality Entertainment which has the experience and creativity to see that your expectations are met. From the early planning stages to the final moment when the lights go out, Quality Entertainment will be by side to ensure your guests leave with a positive impression from their experience. By utilizing the latest sound and lighting techniques in the industry and by pulling from the resources from this city, Quality Entertainment will create an evening which will truly amaze everyone. The services we offer range from floor to ceiling intelligent lighting effects, video projection, wall or ceiling gobos, spotlights and decorative up-lighting. Take a look at the photos on this page and you will see we have been chosen for several major events you might have attended.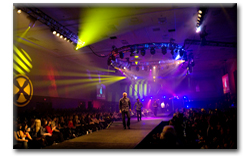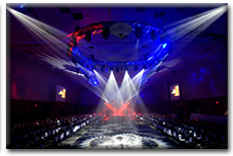 As seen in these photos and video, the combined expertise of everyone at Quality Entertainment was drawn upon to create an amazing evening for the ladies who came out to celebrate the launch of the Ottawa Firefighters Calendar. From the video projectors and screens suspended along the walls to the dynamic special effect lights that were rigged to the ceiling, the Quality Entertainment Major Event Production Team was busy on this night.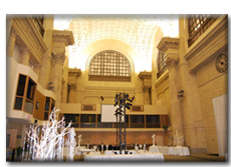 We truly showcased the incredible talent of the Quality Entertainment lighting designers as were brought in to highlight one of the most prestigious events of the Ottawa Tulip Festival. The major fundraiser known as The International Shoes and Champagne benefit showcased the talent of dozens of top international designers who came together in this gallery presentation of their fashion creations to help Soles4Souls provide footwear to needy families around the world at this charity event in Canada's National Capital.
Our job was to provide lighting to showcase the shoes in various theme rooms and to provide sound and video in certain areas where there was a story to tell about the shoes and the event. We accomplished our goals by utilizing the latest LED light fixtures, projection and sound.