There's more to an outdoor wedding than renting a tent, chairs and tables. There's LED lighting for the tent, lighting for the surrounding areas where people will walk or mingle, there's decorative lighting for inside the tent, the dance floor, podium, sound and entertainment and of course – power for the caterer and everything else you're plugging in. Don't discover your problems on the night of your wedding or event – plan ahead with Quality Entertainment.
You have decided to host a romantic outdoor wedding. The first thing you thinks of is the location followed by the tent, chairs and tables. But don't stop there because there is more to an outdoor wedding than the basics. You need to consider the following aspects of the outdoor wedding which we can help you with:
Lighting for inside the tent
Lighting for outside the tent
Podium
Dance floor
Stage
Lighting for Inside the Tent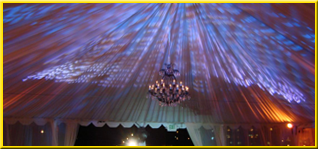 Too often we see couples book tents but not give any thought to the inside lighting when it comes time for dinner or to dance. They assume the lighting that the tent company provides will be suitable for the entire wedding when it fact it's only overhead lighting installed to brighten up the entire tent. These are usually bright halogen lights as seen in the photo, all on or all off. This results in a fully lit or completely dark tent.
You might assume the disc jockey will come with some lights but they are generally for the dance floor area, which leaves your guests sitting all night long at their tables in the dark. The disc jockey lights are also not bright enough to replace the very powerful lights which were spread out in various areas by the tent company so don't count on them being a good replacement.
This is where Quality Entertainment can assist you in creating a more romantic and functional look inside you tent. We can install various lights which can be almost any color to match your décor or theme, turn on or off when you want them to or even change color or create a pattern. We even have lights which can project your name or initials on the wall of the tent. So don't settle for inflexible halogen lights which have one setting for the entire evening. Choose the lights we offer to create the look you want.
Lighting for Outside the Tent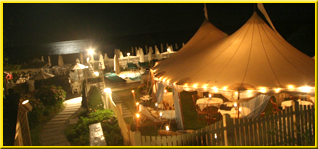 We cannot stress how important it is to have lighting outside of your tent. In fact, we believe it's one of the most important safety issues there is when it comes to your guests. We often see people of all ages walking in the grass, stumbling because they are in their dress shoes or high heels. They sometimes sink into the ground or get lost because there is no lighting to mark their path. With Quality Entertainment's outdoor lighting options, you can direct your guests to areas which are more flat and you can use different colors to light the way to the parking lot or house.
Don't leave your guests in the dark — book indoor and outdoor lighting from Quality Entertainment.
Dance Floor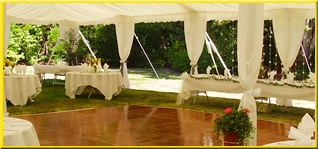 We've seen it a few times where couples don't book a dance floor assuming the grass will be fine. Sometimes this works out but in other cases, the grass becomes wet, soggy or dirty because of all the people on it and it gets on everyone's shoes, bare feet and socks. You can't have this happen at your wedding so book one of our dance floors. All our dance floors are weather proof, light weight and available in various sizes.
Stage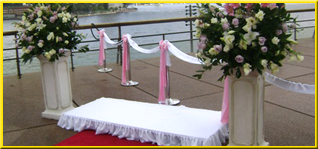 There are many significant reasons to rent a stage from Quality Entertainment. First, you might like your head table to be elevated so you can see all your guests and so they can see you. Secondly, so your master of ceremonies and everyone giving a toast can be seen by all the guests. Also don't forget, you have to say a few words at the end of dinner and you might want to see the back of the room where some of your closest friends are seated.
Translucent Podium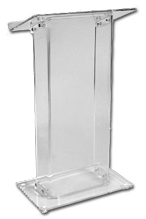 When it's time for speeches, you will need a podium. Without one, your family and friends will not have a place to lay their notes down resulting in the person speaking having to hold their notes in their hands and awkwardly turn the pages in front of everyone. If there is no microphone stand, the person speaking will have to hold the notes and turn the pages — that's a lot to do. To prevent this from happening, rent a podium from Quality Entertainment.