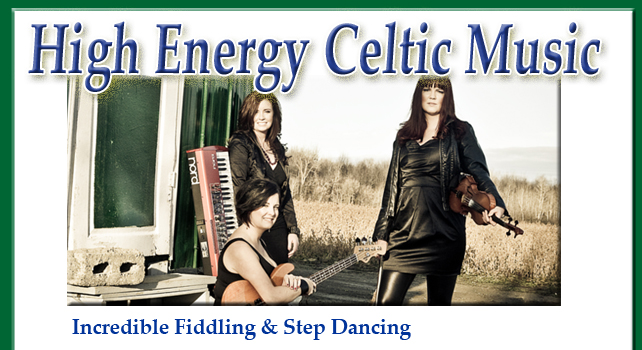 Our High Energy Fiddle and Step Dance Band astound audiences with unguarded sincerity in their vocals, raw fiddling and ferocious stepdancing. These four ladies have been taking North America and Europe by storm, performing an average of 150 shows a year.
Growing up in the Ottawa Valley, Ontario, Canada, the three sisters in the band began performing for audiences at a young age. Each sister was filled with an appreciation of music at an early age and from this, developed a contemporary style of high energy, roots, Celtic, country and pop, a sound they are known and loved for.
The multi-talented sisters play a variety of instruments and are all expert step dancers. One sister plays a boogie style of piano, organ, and mandolin while another sister performs on the fiddle and joins in the lead vocals with the third sister on bass.
Rounding out the live show they are joined by a talented and passionate woman musician on drums and percussion. From private events, to clubs, theatres and festivals, touring originally began in Ontario and has now grown to include North America and Europe.
For more information about this High Energy Fiddle and Step Dance call
Quality Entertainment at 613-52-MUSIC | and
ask for Brian Henry or email him at brian@qualityentertainment.ca