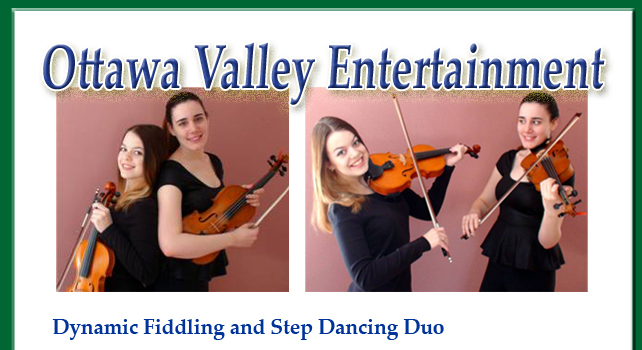 Two exciting Ottawa Valley fiddlers have joined forces in a musical duo which you and your guests will truly enjoy for your wedding, corporate event or social. The two fiddlers found their love for traditional fiddle music over a decade ago and were fortunate to have met at one of their earlier fiddle competitions. This Canadian fiddle duo enjoys performing a mix of music styles including Celtic, Irish, Old Time, Scottish, Cape Breton and French Canadian. They have both studied classical violin as well as the fiddle and have had the opportunity to learn from many of Canada's finest musicians.Over the past several years the girls have traveled and participated in numerous fiddle competitions in Canada and the US and each has won prestigious trophies in their age categories. As individual performers they have each won prizes at the Shelburne Canadian Open, the Maritime Fiddle Festival, the Pembroke Fiddle Contest, the Eastern North American Irish Fiddle Championships, and many more. The youngest of the duo was featured in the 2013 Canadian Grand Masters Fiddling Championships Junior Showcase at the age of 16. Together, as a duo, they have competed in Twin Fiddling competitions and they won 1st Place in Vankleek Hill in 2008 and again in 2009. In addition to fiddling, stepdancing remains ever popular with their audiences and is featured in their shows.
Whether performing at special events, weddings, banquets, fundraisers, ceilidhs, seniors' homes, country fairs, private parties, these girls are sure to put on a memorable show. The joy of traditional fiddle music and stepdancing is alive with these two musicians!
Depending on the event, our duo is accompanied by piano or upright bass depending on the event and program content. The string trio combination
(2 violins with bass) is popular for wedding ceremonies.
For more information about this Ottawa Valley Entertainment call
Quality Entertainment at 613-52-MUSIC | and
ask for Brian Henry or email him at brian@qualityentertainment.ca