If you are planning to contract the services of a disc jockey or musician, there are two important agencies you should be aware of: SOCAN and AVLA
SOCAN – Society of Composers, Authors and Music Publishers of Canada
AVLA – Audio Video Licensing Agency Inc.
Simply stated, SOCAN is a non-profit agency, which collects a fee, charged by your venue, to give you or your entertainer(s) permission to publicly play any kind of music during your reception or event. Your venue does not have a choice whether it charges the fee as they are responsible for collecting the fee for all events with music.
The AVLA is a non-profit agency responsible for issuing licenses to individuals, disc Jockey's, bands or entertainers for the exhibition and duplication of music, whether it be for CD's or videos. For more information, click on the links to your right.
LETTER FROM SOCAN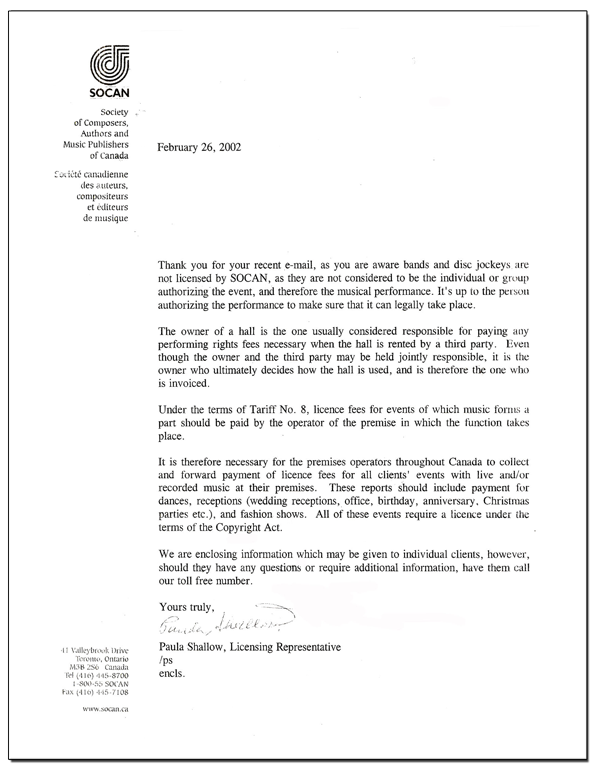 RE:Sound
A not-for-profit music licensing company that represents artists and record companies. When an event or wedding is booked at a venue that has recorded music, the venue must charge a Re:Sound fee to the client which then gets distributed to the appropriate individuals. This is not an optional fee. It's mandatory for all events with music and it's a fee that is charged to the venue and not the entertainment provider. There are many differences between Socan and Re:Sound and one of them is that Socan is charged for recorded music and live music while Re:Sound is only for recorded music. Find out more about the two organizations – Socan and RE.Sound and their differences by clicking below.