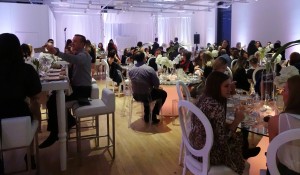 Lighting sets the mood for your wedding and it should be a part of your overall wedding entertainment ideas. Choosing the right type of lighting is important to create different moods throughout the evening.
"Turn up the atmosphere," is an old expression about turning down the lighting for a romantic dinner for two. It underscores the impact that lighting can have on our moods. Not only do you get affected by the intensity of the light but also the color and quality of lights. As we all know, blue fluorescent lighting is not as romantic as a warm red glow.
Your wedding has different moods depending on the situation. Lighting needs to be designed to your liking to enhance your event.
Here are 4 designs to consider:
1- For your wedding ceremony, the location needs to be lit a neutral white and brighter than the rest of the room. It attracts focus to the main event. It makes it easier for guests to see you, to take photos, and for the officiant to read their script!
2- Cocktail hour can have some color and typical room level brightness. You want guests to interact and chat. So they need to see each other.
3- The reception should be bright enough so you can see your meal. Dim lighting can make it challenging to discern your food. Subtle decor lighting is the key here. There also needs to be spot lighting on the head table and the podium for speeches so everyone can be seen easily.
4- Dimming the lights after dinner creates a more relaxed atmosphere and will motivate your guests to dance. Lighting that is too bright will discourage your guests from dancing and compromise your DJ's light show.
In the end you need to consider lighting levels that will compliment any decor lighting you plan to use. This is an important but often overlooked aspect of your wedding. The best resorts and country clubs get the lighting right while others pay little attention lighting control. A hall with only fluorescent tube lighting presents a challenge in that such lighting cannot be dimmed only turned on or off.
You can determine the desired lighting designs with your wedding DJ Company and when you meet with your reception facility's coordinator. A company like Quality Entertainment will have all the lighting options you need to light up your wedding. They can make this part of your overall entertainment ideas plan.