As for our experience, this is one of the most important differences there is. Every weekend, our disc jockeys are actively working and gaining more experience. If you're attending a wedding, a corporate event or another type of function, there is a very good chance it's going to be a Quality Entertainment disc jockey providing the music as we are trusted by more than 700 couples every year for their wedding and we are chosen by hundreds of leading companies for their corporate events. Great companies like Research in Motion (RIM), the Royal Bank, the Ottawa Senators, IBM, the Bank of Montreal, Royal LePage and various Canadian government agencies all choose Quality Entertainment when it counts the most.
When we hire our disc jockeys, we look for friendly individuals who are open-minded, flexible and who possess a solid knowledge of various types of music from older music to new music. Since your guests will be of various ages, it's important to choose a disc jockey service that has the right type of disc jockey. With more than 40 disc jockeys on our team, we definitely have the right person for you.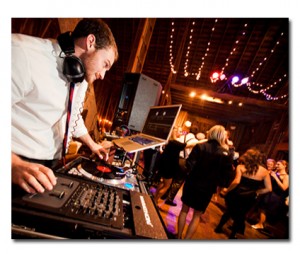 As for the coordination, we are second to none in the city in that we have four wedding and event coordinators to assist you in planning every minute of your day and evening. We also have a client only section of our website, which allows our customers to plan their wedding, corporate party or function from the comfort of their home or office – and anywhere in the world. In this section, it features valuable information as well as forms you can print off and send to us to provide your disc jockey with all the details for the evening. It also includes a link to our music program, which allows you to choose your songs, categorize them and even dedicate them. It's awesome.
And for those of you getting married and require music for your ceremony, our disc jockeys are available with beautiful music for the seating of the guests to the recessional song. We have extensive experience in this area as we are out every weekend in the summer performing ceremonies all across the city. Quality Entertainment is one of the few companies which offers lapel wireless microphones so your guests will not feel as though they are sitting and watching a silent movie. You can also add live music to the ceremony and have the disc jockey provide special microphones so you can hear their performance.